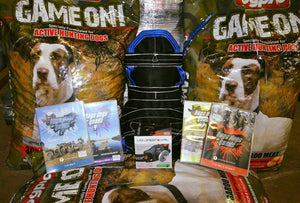 February HD Hunting Supplies Comp.
With a lack of official hunting competitions up here in Darwin we wanted to provide some small prizes to the dedicated hunters up here in the NT. With no where suitable to hold an official weigh in we have decided on having a photo competition. Unfortunately with photo competitions we are unable to 100% guarantee how heavy Boars are or how long tusks are. So to make it fun and enjoyable for every one we are judging purely on how creative and unique photos are. We are spreading prizes around so everyone has a good chance to win.
We would like to thank Dog Pro for the GAME ON dog food supplied. Also Hogs Dogs Quads for the DVDs. 
Breast Plate Winner!                                    
Head Torch Winner!  
Cracker photo's gents, it doesn't get any more Territory than these pictures.
DVD winner!                                                
Dog Food Winner!
Dog Food Winner!                                   
 Dog Food Winner! 
Kids Shirt Winner!                                       
 Winners can contact us in store or via our Facebook Page. 
Thanks to everyone who participated
---