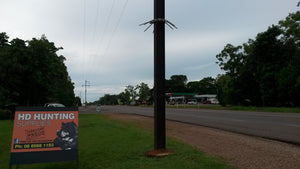 Pig Hunting Supplies
Here at HD Hunting Supplies we aim to have all the necessary gear any hunter needs to get out and go hunt pigs with dogs.
The staff here at HD Hunting Supplies have over 30 years of local hunting experience and understand the hunting conditions in the NT region. We are a family run business with great friendly service and will point you in the right direction.
After noticing a lack of choice for the local pig hunter in the NT we have made it our mission to stock a quality selection of hunting gear.
If you are after some pig dog hunting gear and advice you have come to the right place. 
We stock Knives, Protective Collars (breast plates), DVDs (Hogs Dogs & Quads), Dog Tracking Systems such as the Garmin Alpha and T5 Collars (with Long Range options), we have a comprehensive range of working dog food, all the re-hydration needs for you dogs in the hot NT conditions and a good range of Dog First Aid supplies just to name some of the products.
We are passionate about the sport of Pig Hunting and get out hunting as much as we can. 
HD Hunting Supplies is located on the Arnhem Highway 20mins from Darwin. The hunting store is inside HD Hardware. Look out for the HD Hunting sign.

Cheers
---